Before there was Biba, there was Mr. Freedom. Run by a very colourful character named Tommy Roberts, it was the first lifestyle shop of its kind.
The shop incorporated a pop aesthetic into both the interiors and everything it sold. From outsized false teeth and liquorice allsorts chairs to primary coloured fixtures.
A restaurant was soon set up in the basement called Mr Feed'em. An excerpt from Tommy Roberts in a folio featured in Paul Reeves 'The Best of British Design'.
"Mr Feed'em waiters wore US gas-station boiler suits and the waitresses sported hamburger-printed mini skirts and 40s head scarves. Fake flies featured in the soup, while cakes were baked in the shape of pairs of Levi's. The napkins depicted Mae West as the Statue Of Liberty."
Back to the fashion and the American influence was clear to see. Baseball became a trend and took the form of a women's fun playsuit.
Pop Art style repeat prints literally popped with colour using everything from breakfast foods to Campbell soup tins and everything in between.
Still riding on the excitement of the moon landing two years previously, this shirt depicts the event.
This tv resembled the shape of an astronauts helmet.
The wild and colourful store attracted some wild and colourful characters; David Bowie, Marc Bolan and Elton John. This poodle shirt below was worn by Elton.
As well as these winged platforms which adidas have been channeling recently.
A few other products on display sold in Mr Freedom:
You can read in much more depth about Mr Freedom in MR FREEDOM – TOMMY ROBERTS : BRITISH DESIGN HERO by Paul Gorman. Featuring a foreword by Paul Smith, it also includes interviews with Tommy Roberts and others involved in Mr Freedom, colour photos of the store and the clothes. Paul Gorman writes a blog which is a treasure trove for anyone who loves this era.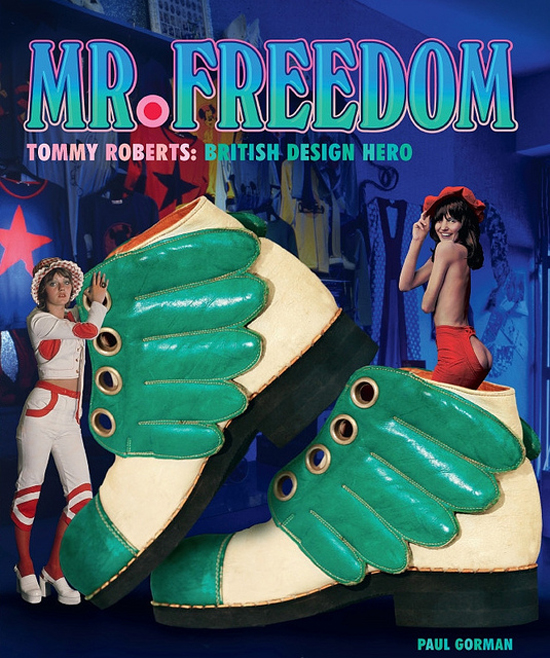 Finally, i'll leave you with a fashion report of Mr Freedom from 1970.